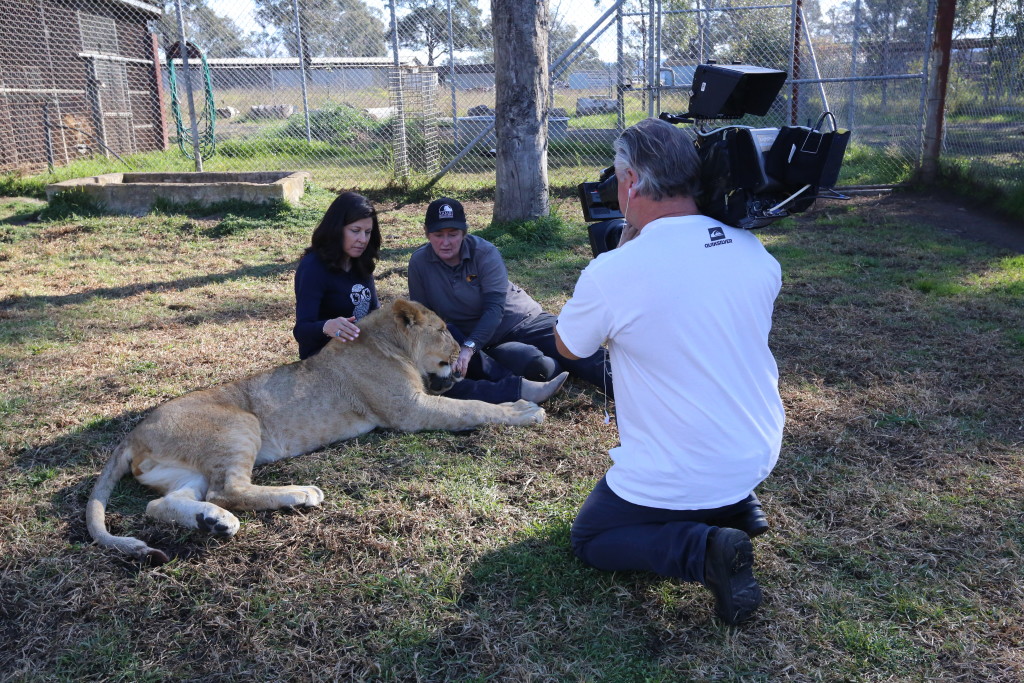 Media Animal TV was invited to an exclusive behind the scenes tour of Zambi Wildlife Retreat, which when it opens next year is set to become Australia's first retirement village for animals who have finished their careers in zoos,the circus or the entertainment industry.
It's a visit Tracey Preston will never forget! "As a television journalist I have been covering the animal story beat for many years but this story was something else". "I mean who gets to lay down next to a 120kg male lion, pat a puma,feed hungry lions  and walk dingoes for a job?" The entire crew had an awesome day at Zambi".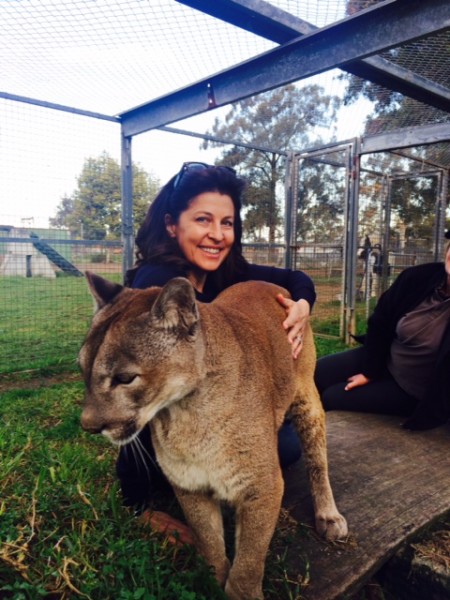 Zambi wildlife retreat is a safe haven for over 100 retired or unwanted animals, including lions,tigers,rare birds,dingoes,primates and farm animals. Looking after these animals is a 24/7 job for the dedicated team of volunteers running the facility.
Zambi receives NO government funding and we are hoping our story will help generate much need donations to build new bigger enclosures and help enrich the lives of Zambi's residents Here's a link for info on how you can help..
http://zambiwildliferetreat.com.au/donate
About Media Animal .TV

Tracey Preston is a television journalist with over fifteen years experience reporting and presenting Australian Television news for Channels 9,7,10 and SBS. Tracey has been covering the animal story beat for many years- a career highlight as a Channel 7 journalist was travelling to Zimbabwe with cricket legends Alan Border, Carl Rackemann and David Gower to raise awareness about the devastating effect poaching was having on the Black Rhino
As Executive Producer of MATV she has produced and covered countless stories about Australia's own threatened species as well as unique stories about the ordinary people doing extra ordinary work with animals along the way..
Tracey has also worked with big brands like Purina to positively shift Australian mindsets about adopting abandoned animals, and through her agency 'Media Animal' represented some of Australia's most dedicated and talented people helping to better the lives of animals..
Media Animal TV is an online animal channel focusing on highly shareable, positive stories that educate, entertain and celebrate animals and pioneering a new approach to video content that brings the high production values of traditional television to an online audience. The Show was contracted to Yahoo 7 after two weeks of launch and we are now exploring new horizons.